Last Updated: "Sun Jan 4 02:41:29 PST 2015"
I think I might be going back to try Android again. I'm publishing this now. I'll try and keep it updated.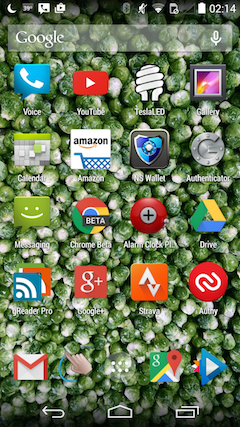 Companion Software
Dialogue - turns my mac into a bluetooth headset (also allows moto-x to unlock)
Android File Transfer - I have no idea why it can't just look like a drive.
adb
Things that drive me nuts:
I can't turn off an alarm using the headphone button, or any bluetooth buttons either.
App Permissions - allow me to grant deny app permissions on a per app basis rather than an install/no-install choice. Facebook wants too many permissions I don't want to grant it.
Wifi Sucks - won't work with an airport extreme and express with the same SSID - made two networks and it won't switch between them.
Games (I've decided NO GAMES on my new phone so this is out of date)
Things I haven't yet tried:
Tasker (Free 7 day trial if you sideload it)
Locale
I really want to get App Ops back but I need to Root My Moto-X first and that's not going so well.
Things I didn't like:
This page has a short url: http://wtwf.com/android
Posted Monday 16 December 2013 Share